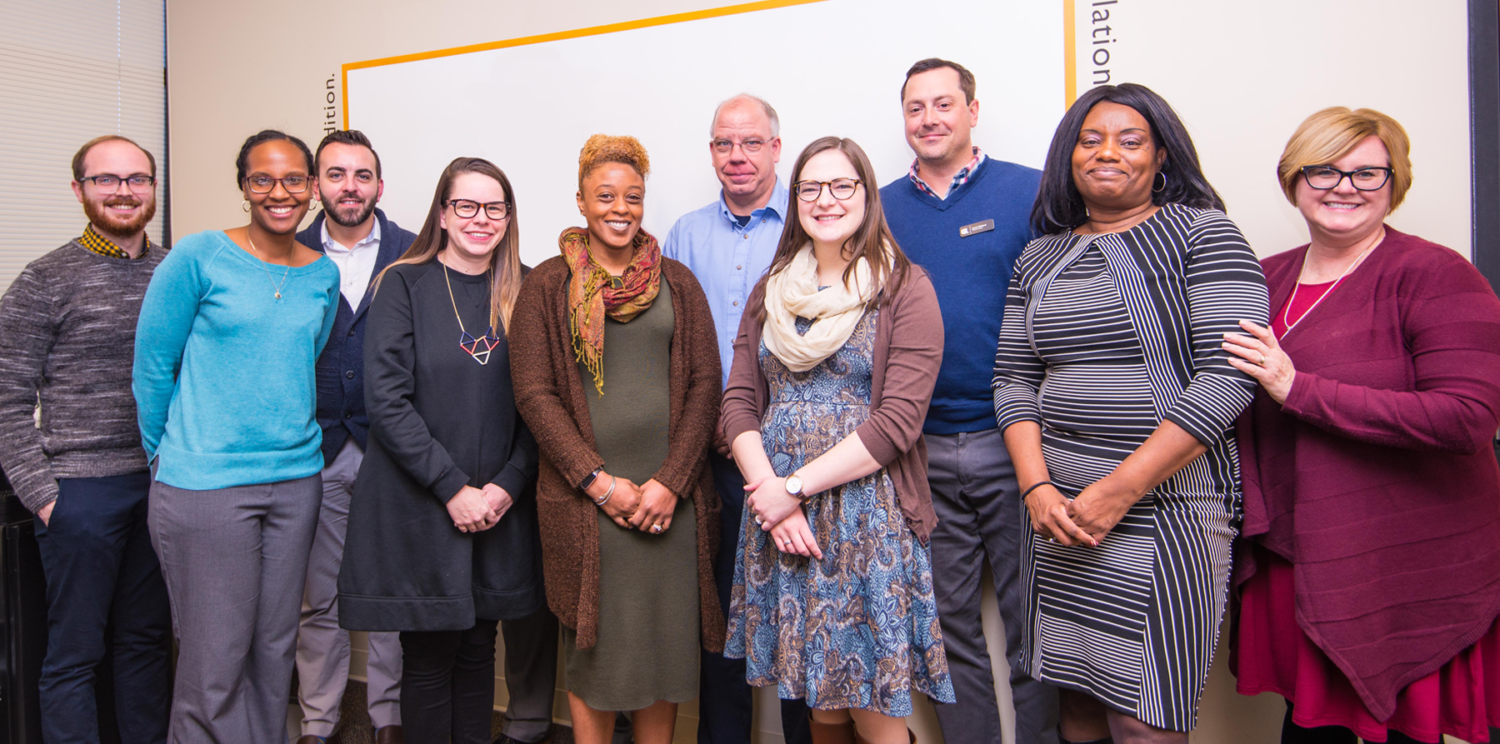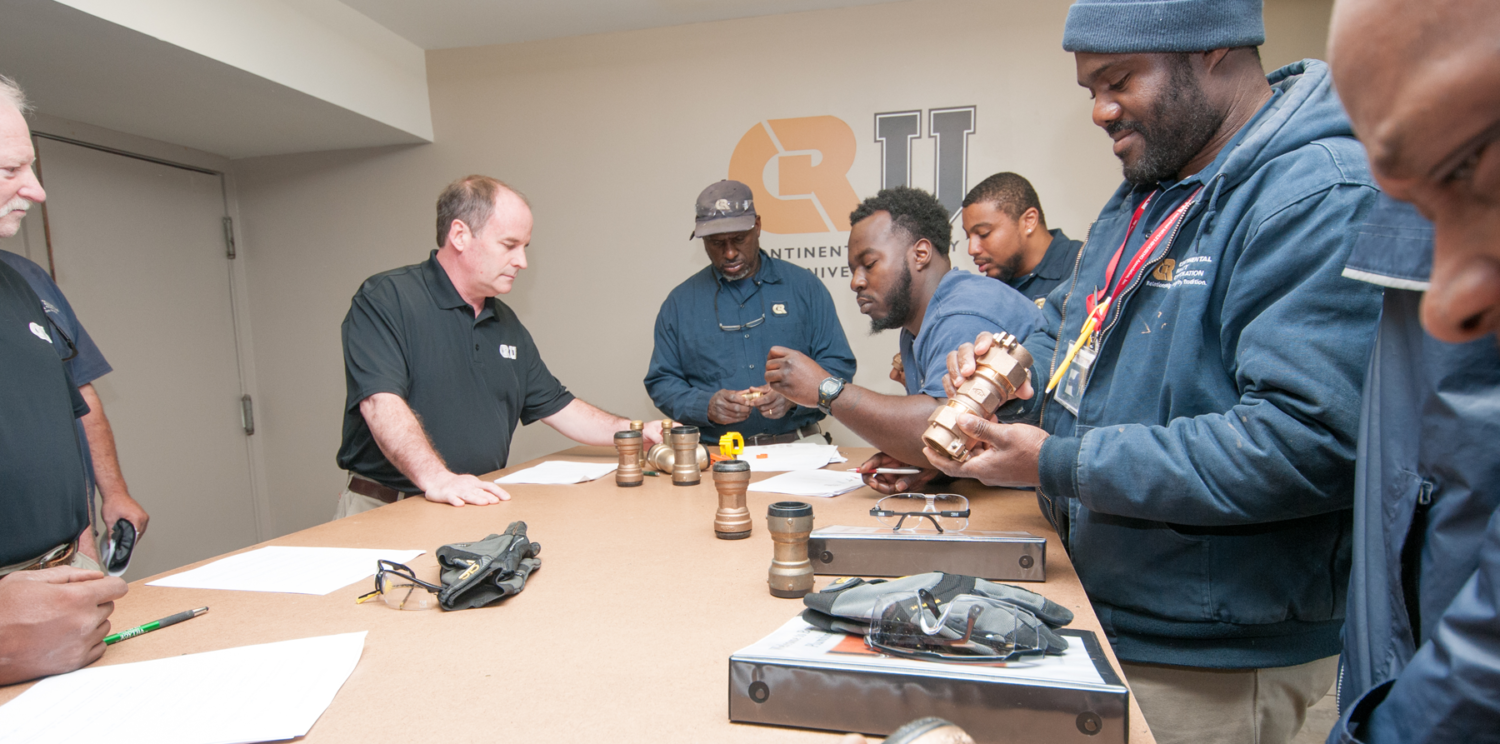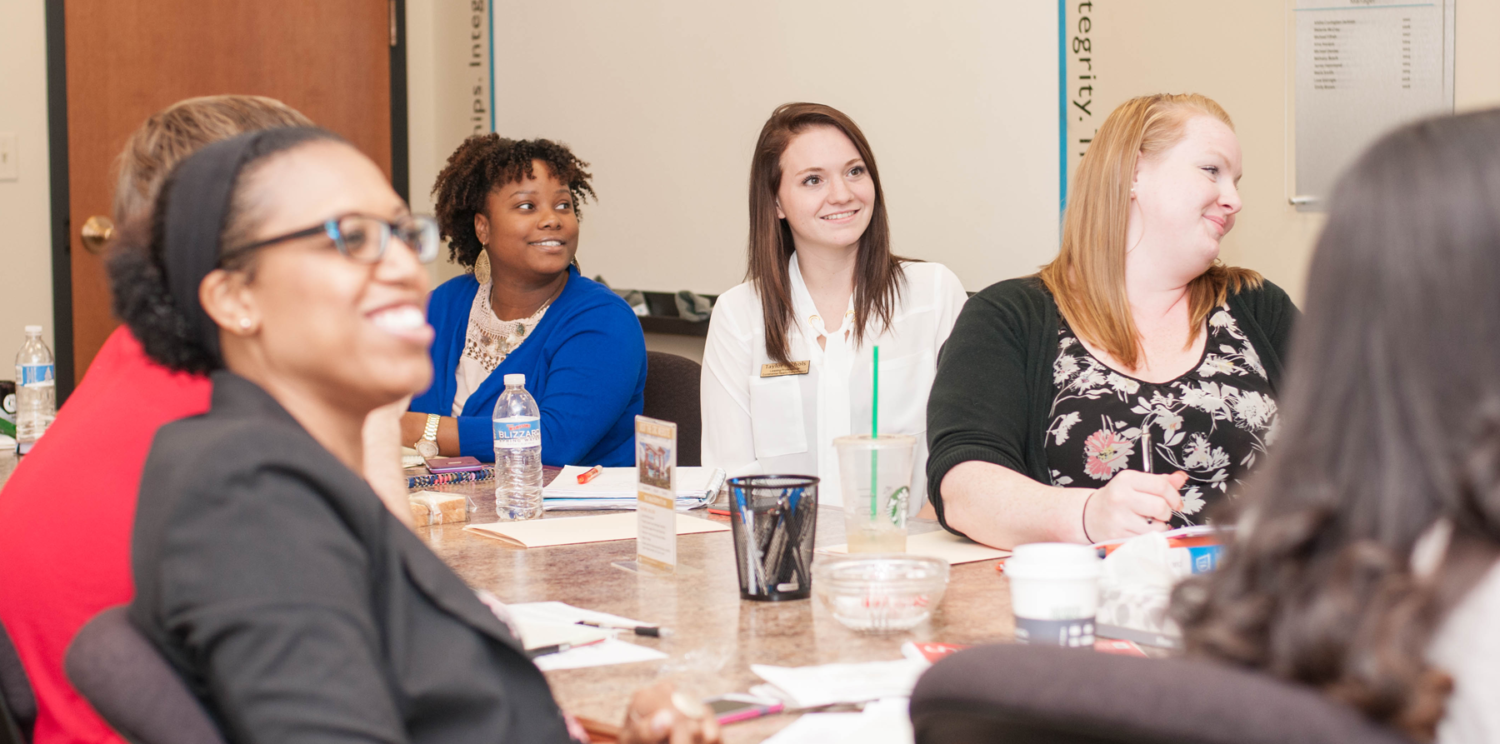 Continental Realty University (CRU) is a comprehensive training program for property management and real estate professionals. We have an in-house faculty of subject-matter experts who help you develop skills specific to your role and give you a well-rounded foundation to build on as you advance your career.
Since CRU began in 2013, several team members have earned promotions based in part on their participation and achievement in the program, and their ability to put what they've learned into action. This is because courses are in alignment with job descriptions and annual performance reviews to foster team member growth.
Courses Offered
Leasing College
Read More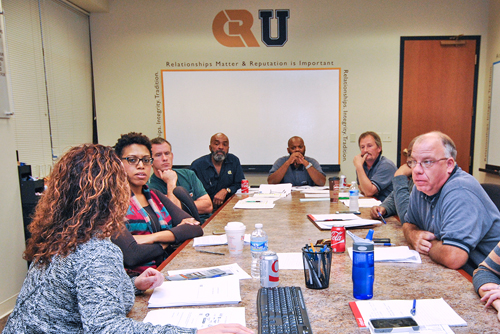 Customer Service Workshop

Exceptional customer service is about responsiveness and doing the right thing – every time. This means that we need to be there for the tenants and residents not just at lease signing, but throughout their stay with us. We deal with people's homes and businesses, and we are committed to training our team to be the best.

Handling Sales Calls

The telephone is a critical sales tool in today's competitive market. This course is designed to enable individuals to sell successfully over the phone. Techniques offered include selling benefits, managing questions, identifying buying preferences, handling initial rejection, securing the appointment and handling unqualified callers.

Data Matters

Numbers tell the story of overall property performance, including marketing and sales effectiveness. Students will learn the KPIs and how trends in data allow businesses to make informed decisions. Students learn to both interpret and present data to make viable recommendations and decisions for their respective communities.

The Cost of Resident Turnover

The course focuses on the cost of total turnover. We will understand the cost of losing a resident and gaining a new one.

Traffic Generation

This training will review all aspects of traffic generation from creating the guest card, to managing appointments, and the guest pipeline. Additional function review will include the search tool, Dashboard overview, recording activity, completing and scheduling follow ups, Dashboard 'Leads' navigation, prospect matching functionality and guest merging.

Maximizing Sales Opportunities

This course covers techniques to handle objections, and difficult questions which arise during the sales process. Instead of challenges, these instances should be viewed as buying signals and as opportunities to increase success of the sale. When handled effectively, sales opportunities can lead to customer commitment and secured leases. Overcoming objections, closing techniques and asking for the sale are also discussed.

Digital Marketing

The world has become a digital marketplace. The success of any digital marketing strategy relies heavily on an in-depth understanding of the customer's online journey via various social media and digital marketing platforms used to reach customers and business partners alike.

Facebook Best Practices

The CRC Facebook Road Map will get you on your way to becoming a social media expert. Learn content curation, posting etiquette and how to develop a social media strategy that works for your residents.
Leadership College
Read More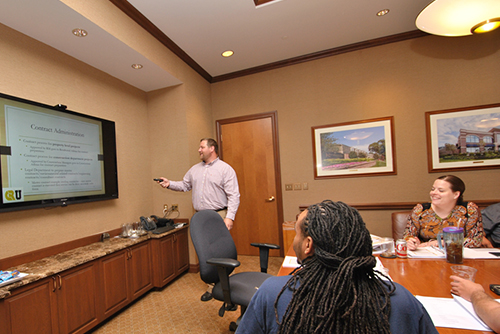 The CRC Way

This course will provide a basic context for understanding CRC's emphasis on continuous learning, critical thinking, and professional development, providing the foundation and framework for understanding CRC's mission, vision and core values.

Human Resources for Managers

This popular course provides an overview of HR principles that relate to the role of a property manager or service manager. Topics include coaching, counseling, employment law, performance management, recruitment and interviewing.

Leadership Development Program (LDP)

Designed for new and aspiring managers and supervisors, LDP gives team members the essential skills in leadership, such as communication, coaching, professionalism and organization. Team members are nominated by their supervisors in this very selective program.

Employment Law

Workplace issues have become one of the fastest-growing areas of state and federal law. Employment-related lawsuits filed in federal court have tripled in volume in the past decade and now account for a tenth of all civil cases. This course examines the labyrinth of laws that regulate the employment relationship between CRC and team members so that managers can better understand their responsibilities with regard to this important topic.

Coaching & Counseling

In every organization, a robust staff development program is a key tactic to advance the organization by grooming individuals for increased levels of responsibility and creativity. It is also a key component of job satisfaction and aids in employee retention. This course solely focuses on the importance and difference in coaching and counseling team members and how to document certain processes regarding performance.
Communications College
Read More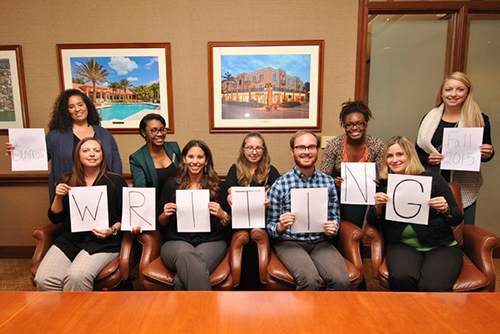 Continental Kick-off

This orientation course is designed to give new team members insight into CRC's organizational structure, policies and procedures, mission, vision, core values, and culture. For residential team members, this will also include fair housing and curb appeal training.

Emotional Intelligence

Emotional Intelligence is the ability of individuals to recognize and manage their own emotions and other people's emotions. Utilize this emotional data to guide thinking and behavior in constantly changing environments to achieve one's goal(s).

Predictive Index Workshop

The Predictive Index (PI) assessment tool measures work-related behaviors. A better understanding of your own PI will increase your self-awareness. A better understanding of your teammate's PI will improve communication and increase overall performance for the entire group.

Written Communication

This course focuses on all forms of written communications, both formal and informal. This includes correspondence with vendors, tenants, residents, co-workers and management. Formal business letters and memos are discussed, along with the proper structuring of written documents. Study will include grammar, punctuation, style, and formatting.

The Spoken Word

This course is centered on verbal communications. Effective verbal communication has to do with pace, tone, volume, eye contact, hand movements and physical presence. Students learn to become more effective in-person communicators in all settings.

Presentations

We are all faced with having to give presentations throughout our career. These may be quick, informal presentations, or formal presentations to owners and investors. It's important that students understand how to design and deliver a presentation which both anticipates and answers the audience's questions. This is a highly interactive course with all students giving a formal presentation.

Public Speaking

Most people fear public speaking more than heights, spiders and snakes! However, even the most shy and reserved individual can learn to dramatically improve their public speaking skills. The best way is to learn some tricks of the trade, and practice. This course provides solid techniques to help anyone become an effective public speaker. During the course, students will give a presentation to a small selected audience. Don't let fear prevent you for signing up for this course!

Personal Brand and Professionalism

Have you ever thought about your personal brand? In the era of social media and a highly individualized society, your personal brand goes beyond a business card. This class will cover topics like how to present yourself on social media to maximize your professional presence, how to navigate a networking event like a pro and the pitfalls that can tarnish your valuable brand image. CRU is combining a unique body of knowledge to help you maximum your effectiveness!
Property Management College
Read More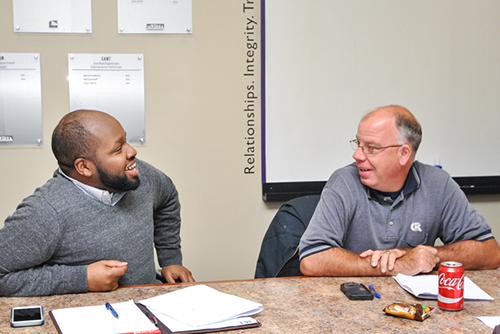 Construction/Project Management

This course covers a wide range of topics including project scope, bidding and contractor selection, the strategic plan of a property, capital budgeting, lender requirements and escrows, project management, job cost reporting, contractor payments and project closeout.

Property Acquisitions

Students gain an introduction to markets, along with property selection, evaluation and due diligence. Topics also include buyer and seller motivation, letters of intent and negotiation strategies, operational and financial analysis, working with brokers and working with asset management teams.

Property Management Basics

This course starts with an understanding the Management Agreement, and how it ties to lease obligations. Wide-ranging topics include owner reporting, customer service, leasing, maintenance, risk management, operating and capital budgeting, staff and office supervision and management.

Real Estate Analysis

Topics include how to perform research and gather property and market data. This includes aerials, maps, demographics, traffic counts and property photos. Students learn to assess the physical condition of the property, understanding features and benefits of a community now and in the future. A special focus is placed in understanding the factors which drive supply and demand in a market.

Maintenance for Property Managers

An efficient maintenance program protects and preserves the asset. This course will cover three aspects of maintenance that must be addressed as part of a comprehensive program. Preventive maintenance, corrective maintenance and deferred maintenance will be reviewed for the roles they play in maintaining your property.
Facilities & Maintenance College
Read More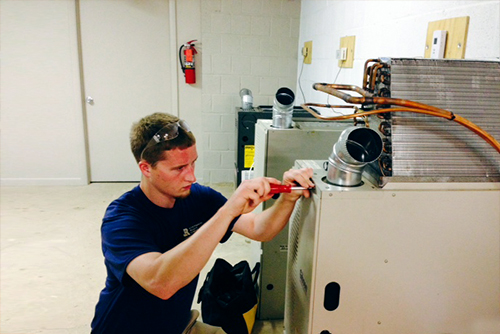 Risk Management

Focusing on specific industry mandates and regulations, this course will provide OSHA compliance insights to effectively evaluate and manage/minimize risks.

Heating

This course will cover preventive maintenance, basic fundamentals of heating systems, thermostat operation, identifying equipment/controls/components, troubleshooting electrical issues and working with gas fittings.

Electrical

Team members will learn the hazards/dangers of electricity, basic fundamentals of electricity, lockout/tag-out procedures, identifying and working on various electrical components and materials.

Plumbing

This course covers safety precautions, basic fundamentals of plumbing, proper use of drain machines, identifying types of pipes and pipe fittings, troubleshooting/installing sump pumps and hot water tanks.

Air Conditioning

This course includes general safety practices, basic fundamentals of air conditioning, refrigeration cycle, EPA regulations, identifying the different refrigerants, preventive maintenance and troubleshooting various systems.
Business College
Read More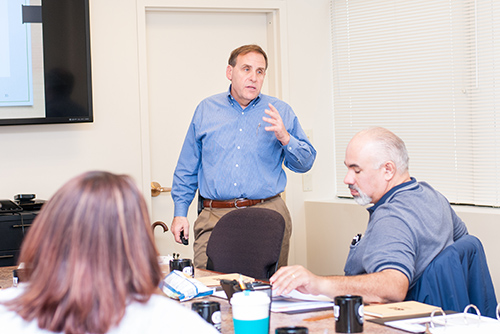 Real Estate Accounting & Finance

This course covers accounting basics, including balance sheets and income statements as well as accounting terminology. Students will also learn how to make investment decisions, determine market value, and determine returns on investment. The role of appraisers, lenders and CRC's finance team will also be discussed.

Metrics/Management Reporting

Students will review the financial and operational metrics related to revenue, expenses, capital and overall operating performance. Topics include selecting appropriate metrics and understanding trends in data and performance. Special focus is placed on leading indicator data.

Legal Principles

This curriculum is designed to provide a general understanding of the legal principles affecting CRC's business, with special emphasis on contracts and leases. The course will also cover basic legal terminology, entity formation, agency and authority, legal risk management, and discovery and document retention requirements.

Software Solutions

This course provides training on a variety of software platforms used extensively throughout CRC. These include the major components of Microsoft Office, including Excel, Word, PowerPoint, Outlook, Teams and Planner. In addition, training is provided on internal accounting programs along with CRM systems. Seminars will also cover internet safety, cyber security and online training programs. Training on various applications, programs and systems will rotate throughout the year and feature frequent guest presenters.

Apartment Marketing Analysis

A market analysis is a quantitative and qualitative assessment of a market. It looks into the size of the market both in volume and value, the various customer segments and buying patterns, the competition, and the economic environment in terms of barriers to entry and regulation. Learn how this data is utilized in our business.

Advanced Management Principles

A seminar-style class in which we read and discuss short essays on individual management topics, including motivating employees, cultivating your leadership style, managing your boss, and more. You will be required to read and take notes on the essays between each class session. Classes consist of informal discussions of the reading materials and of real-life management issues faced by class members. Class sizes will be limited, to facilitate robust class participation by all students.