September 30, 2016
CRC Acquires 324-Unit Riverstone at Owings Mills Apartment Community for $61.6 Million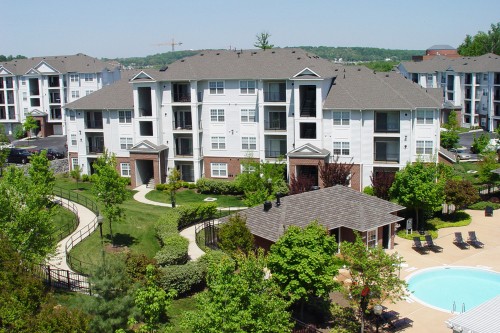 Acquisition in Baltimore County, Maryland represents fifth for Continental Realty Fund IV, a $164 million fund that seeks value-add retail and multifamily opportunities
BALTIMORE, MD (September 30, 2016) — Continental Realty Corporation, a Baltimore-based real estate investment and management company, has acquired Riverstone at Owings Mills, a residential community consisting of 324 garden-style apartment units in the Owings Mills section of Baltimore County, Maryland for $61.6 million. The asset consists of one, two and three-bedroom apartment units and was nearly 96% occupied at the time of the purchase. The apartment community was purchased from CIM Group who was represented by CBRE.
Located at 4700 Riverstone Drive, the asset was acquired on behalf of Continental Realty Fund IV, L.P., a $164 million fund which is focused on acquiring value-add retail and multifamily properties in the Mid-Atlantic and Southeast regions. This represents the fifth property and third residential asset purchased by the Fund, which includes Avana at Carolina Point, a 346-unit apartment community in Greenville, South Carolina and Polo Glen Apartments, a 252-unit apartment community in Rockledge, Florida.
Constructed in 2002, Riverstone at Owings Mills consists of ten three-story and four-story garden buildings, and is one of only two fully-gated apartment communities located within the Owings Mills sub-market. The units range from 790 square feet of space in the one-bedroom units to 1,379 square feet of space in the three-bedroom units, with the average size consisting of 981 square feet of space. Ninety-six of the units feature direct-access garages and, since 2013, approximately 30% of the unit interiors have received improvements to the kitchens and bathrooms. Continental Realty plans to continue with the on-going renovation program, which includes the installation of granite counter tops and stainless steel appliances.
The apartment community is also positioned approximately three miles from Stevenson University, one mile from Interstate 795, and less than one mile from the Owings Mills metro station. Downtown Baltimore can be accessed in approximately twenty minutes, Towson can be reached in approximately fifteen minutes and BWI Airport is approximately twenty-one miles away.
According to research published by Claritas in 2016, population in the Owings Mills area increased 15.5% from the period 2010 through 2016, and is projected to grow an additional 9.6% by 2021. The Owings Mills/Pikesville submarket is expected to maintain a 95% average occupancy level through 2020, with annual effective rent growth exceeding 3.5% in the next year, according to Axiometrics.
"Riverstone at Owings Mills is strategically positioned within an extremely compelling and rapidly-expanding section of Baltimore County, featuring three significant mixed-use developments currently underway," explained JM Schapiro, Chief Executive Officer of Continental Realty Corporation. "The area is supported by a stable employment market featuring numerous nationally and regionally-recognized companies, a highly-developed transportation network with a subway station that connects residents to downtown, as well as major retail centers including a newly-opened project anchored by Wegmans Food Market."
"The asset satisfied each acquisition requirement in our evaluation criteria and our team considers this project an excellently-maintained apartment community situated in an extremely strong marketplace with sustainable long-term growth. We are confident that Owings Mills will continue to remain the location of choice in the Baltimore County region among employers and residents, based on the existence of these strong fundamentals and the continuing development activity."